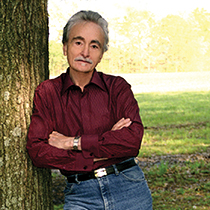 From the time Jim Glaser left his family's 1200-acre farm in the heart of Nebraska, at age nineteen, to travel the world with famed singer Marty Robbins, he has been at the vanguard of country music's developments and trends. Well-known as a singer and songwriter by country music fans the world over, and well-respected by the most prominent players in the music business today, Jim Glaser is the perfect performer to fill your entertainment needs.
As members of the Grand Ole Opry for fifteen years, Jim Glaser and his two brothers (Tompall and the Glaser Brothers) won nearly every group award country music had to offer. As a matter of fact, Billboard Magazine presented them with an award for being the most awarded group in country music at that time.
In the early 1980s, Jim began recording as a solo artist for the newly- formed independent label, Noble Vision Records. Their first release, "When You're Not A Lady," still holds the record for being the most successful first release of a new label, staying on the national charts an incredible 34 weeks!
Jim Glaser and Noble Vision Records continued having hits and, in 1984, the year that saw, "You're Gettin' To Me Again" reach the coveted number one position on Billboard's charts, Jim Glaser was voted "Top New Male Vocalist of the Year" by the Academy of Country Music.
Jim's first solo album, "The Man In The Mirror," was then released. It quickly entered Billboard's chart, where it remained for more than a year and a half! In all, six top-twenty singles were pulled from that landmark album.
Jim Glaser's long musical heritage—over 50 years as a professional—gives him a rich and varied background from which to draw material for his show. As well as flawless renditions of his own hits, The Jim Glaser Show includes musical tributes to other great artists he's worked with over the years, including Tompall and the Glaser Brothers, Marty Robbins, Johnny Cash, and Patsy Cline.
The Glaser Brothers travelled with the Marty Robbins show for three years, and it's Jim's tenor voice you hear on Marty's classic, "El Paso." Some of the first country performers to appear in Las Vegas, Marty Robbins and Tompall and the Glaser Brothers had a six-week run at the Showboat Casino in 1960!
The Brothers' stint on the road with Johnny Cash included performances at Steel Pier in Atlantic City and New York City's prestigious Carnegie Hall. Jim and his brothers were with Patsy Cline for her debut in Las Vegas's Mint Casino just weeks before her tragic death.
The Jim Glaser Show is ideally suited to audiences of all ages. Ralph Emery, host of Nashville Network's longrunning Nashville Now says that, "Jim Glaser has one of the best voices in Nashville!" Glaser's smooth delivery and easy manner instantly puts crowds at ease. He also performs songs he's written for other artists, such as Gary Puckett and the Union Gap's giant hit, "Woman, Woman".
And woven among these familiar songs are colorful stories and insights that give Jim Glaser's audiences a fascinating glimpse behind the scenes of country music as seen through the eyes of one of its top performers.